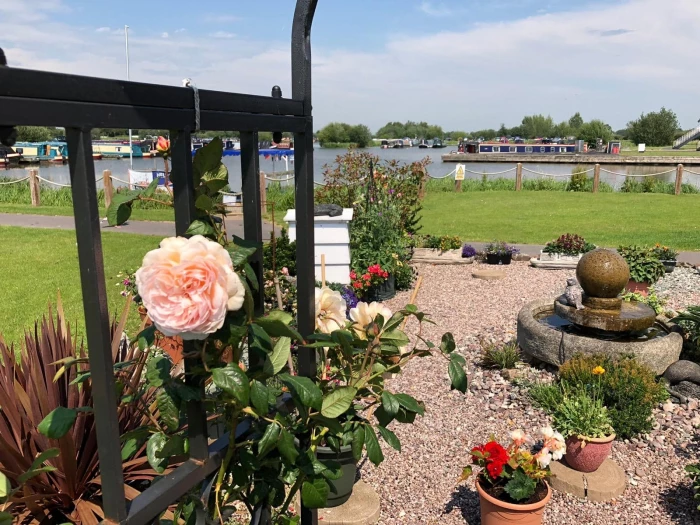 There's never been so much excitement around Bridge 80 as there has been over the last couple of months! On the 15th January I was on a morning off, riding round the farm tracks when Sam in the marina office called me to say we'd had a report of a "whirlpool" in the canal right by the bridge. My heart sank (almost as fast as the water!) We and CRT knew there was a problem with the culvert which runs under the canal by the bridge – they'd put a camera down it in June and noticed an issue, but put it on a watching brief – they have so many similar structures in varying states that to repair all must be too massive a task.
So here we were – a cold January day with a rather impressive whirlpool and a rapidly emptying canal. I made a call to Angus who summoned the troops and the stop logs went in – the first time for us, other than when the marina was built. A passer-by had also rung the CRT emergency number so help was on the way. In the end they put two temporary dams in and pumps to bypass the water round (it flows south to north on our stretch). The bridge, or rather the hole, then became something of an informal tourist attraction for the locals – for many people their daily exercise involved a trip to the bridge to see the progress. The team from On Site were brilliant – they specialise in culvert repairs so once they had the repair plans and the go ahead from CRT it was full steam ahead. I think I managed to take a photo from the bridge pretty much every day – I'll get round to compiling them in an album eventually.
The water finally went back in on the Wednesday before Easter and it was pretty exciting to see them take the dams down. It reminded me of when we built the marina – the day before we started letting the water in, I walked the entire length of the basin – I wanted to be the last person to walk the land before it got flooded. It took around a week to fill and the character of the marina changed every day. The culvert repair area refilled overnight so at least I didn't have quite so long to wait but I have to say it was pretty special to see the first boat go through (you can watch the video on our Facebook
page).
It's been lovely to see people starting to visit their boats since some of the lockdown restrictions lifted and as this newsletter goes to press, we are looking forward to people being able to stay overnight and properly go out cruising. For now – keep safe wherever you are and as Captain Tom says "tomorrow will be a good day".