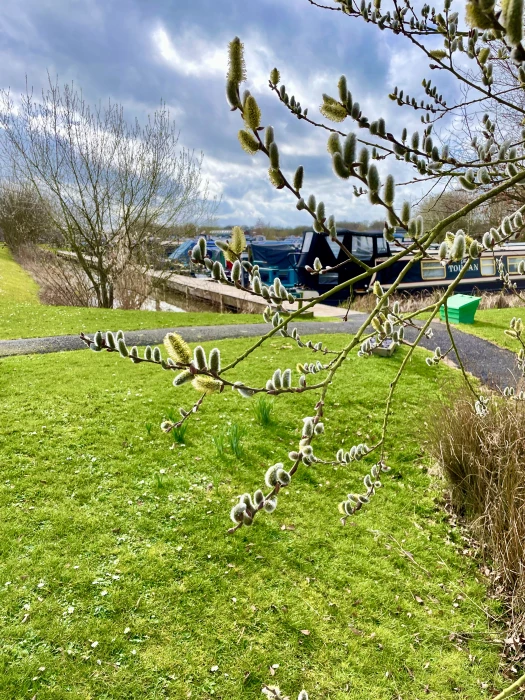 It must be spring as I seem to be buying more and more seeds and flowers for our gardening club – they have the most amazingly green fingers so I simply can't complain. Every year they turn the garden by reception, and the area by our greenhouse, into a staggering array of colour. How come some people have got it and well.... the rest of us, like me,  just haven't!
This year it's going to be different – I've bought myself a lean-to greenhouse and I've resolved to grow some greens for my lunch! It's a very healthy office at Overwater – we're pretty much all on green salady stuff for lunch, apart from the occasions when we get distracted by the lovely smells wafting over from Café at Bridge 80 and then we've been known to give in to the delights of home-made pasties and freshly baked cake. It's a time of change at the moment – Alison our café tenant is retiring – in the office we're hoping whoever takes it over is as good at making scones!
Out and about round site, the trees are budding, hedges are bursting out into leaf and the daffs are looking lovely – what a great time of year the spring is. Just that feeling of warmth from the sun makes all the difference (even if it's followed by a howling gale!). Angus and the team have been busy replacing jetty boards (it's a bit like painting the Fourth Bridge) and Matt and the workshop team are gearing up for blackings (there are a few slots left if you need one) – a sure sign that spring is on its way. I've even just booked our tickets for Crick Boat Show! At home the cattle are starting to go out – a joyous sight when they've been in for the winter and the horses are moving onto summer paddocks. I heard a woodpecker the other morning and while the ducks are all getting frisky the oyster catchers are in full squeak!