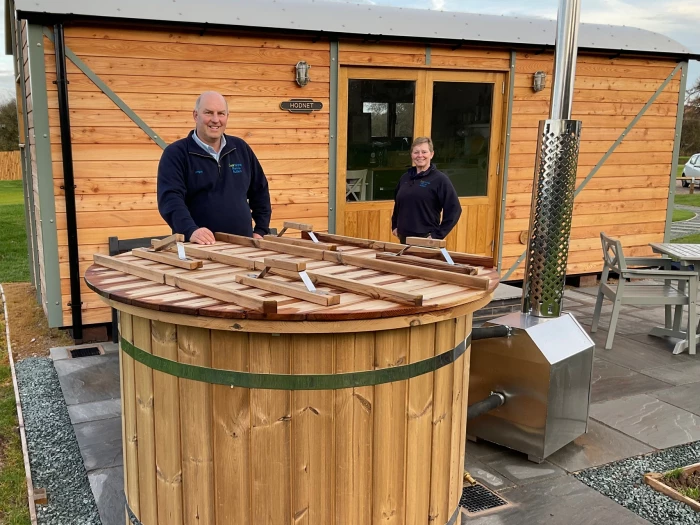 Janet's Blog – January 2022
The marina has actually been really quite busy throughout the autumn and into the winter. We managed to survive two members of staff being off at different times with the dreaded covid and we've all been keeping the lateral flow test industry busy by testing, testing and more testing. 
Lakeview – our new touring pitches is now open and the first two glamping wagons, Wellington and Hodnet are available for booking (they used to be the two of the station names on the Gingerbread line which ran from Nantwich to Wellington in Shropshire).  Angus and I tried one out a few weeks ago – we thought the only way to check it had everything it needed was to give it a go, and well, I may be a bit biased, but it was lovely.  The all electric Everhot cast iron stove was amazing and we were snug as a bug all night. One thing which struck us was how quiet it was – at home we have cattle sheds on one side of the house and you don't quite realise how noisy they are until you stay somewhere else.  We never quite got as far as the log fired hot tub, but David and Carol did when they stayed in the other wagon and can report that it's definitely the place to sit in, relax and watch the stars.   
On the home front, no one can deny that having a more normal Christmas was really very lovely.  On Christmas Eve we took my mum and a couple of friends for a shire horse carriage ride – there's a place nearby which does shire horse experience days and carriage drives. It was lovely – out round the lanes all wrapped up in blankets.  We even managed a few Christmas carols which must have frightened the life out of the odd walker we passed.  Christmas was the usual fest of eating and drinking, although less of the drinking for me – I was on antibiotics – the ones which make you vomit should a single atom of alcohol pass your lips – so no mulled wine, no homemade damson gin, no champagne and even worse no Christmas pudding laced with brandy.  Chock full of turkey we managed our traditional family walk on Boxing Day, up the old green lane to Hankelow and back.
New year saw daughter No.2 turning 17 – beware – she's just had the L plates and will soon be out on the roads, and as I write we've just succumbed to covid, with Angus testing positive and me following soon after. Hopefully, as we've both had boosters, we'll get off lightly and we shall remain eternally grateful to all the doctors, nurses and volunteers who have allowed us that privilege.